Article
This was upKeeper Open 2020 online
Get notified when we've got something new!
upKeeper Open 2020: this year, we decided to host upKeeper Open online instead of at a venue in Umeå. Our goal was to make it safe and easy for everyone to participate in these extraordinary times. Little did we know that it would be such a great success…
A record-breaking 106 participants were online with us and watched the livecast from Sweden, Finland and Estonia. We had special guests joining in through video links throughout the afternoon. And the lively chat and commentary section gave the event an almost real-life feeling. Fun fact: 28% of participants were first-timers at upKeeper Open 2020: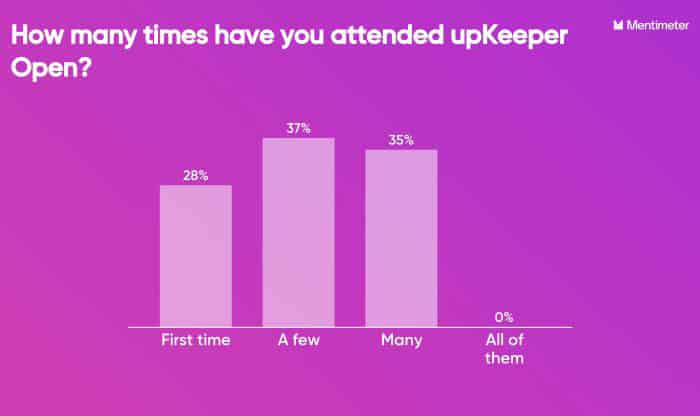 Now we are making most of that afternoon's video content available here. Therefore even those of you who were not able to watch it live, now have a chance to be there for upKeeper Open 2020. Of course, you're welcome to re-watch it even if you were there! Here you go:
Using Stormboard was our way to communicate and work together for the afternoon. Our virtual whiteboard soon filled with lots of our particpants' ideas and inspiring thoughts. Hosting upKeeper Open 2020 online proofed to be a success. Thank you to everybody who joined in!
Any questions or feedback about the event? Post in the comment section on YouTube or email us directly at info@upkeeper.se
Keep yourself updated on future webinars and livecasts by signing up for our webinar-infomails!